Scout Center Ohrid is placed just outside of Ohrid, by the old road to Struga in the Daljan area. Its location is perfect in many ways, mainly because it is in a peaceful area and is just 2 km away (20min walk) from the city centre of Ohrid.

The Scout Center lies 32.500 m2 with a lot of green areas and a small river flowing next to it. In the centre, there is a beach on the Ohrid Lake on the southwest side of the camp. which makes it perfect for a whole beach day, since the sun sets really late.
The centre is an ideal place for youth and other organized groups of people which offers a space for amazing and fun workshops and activities.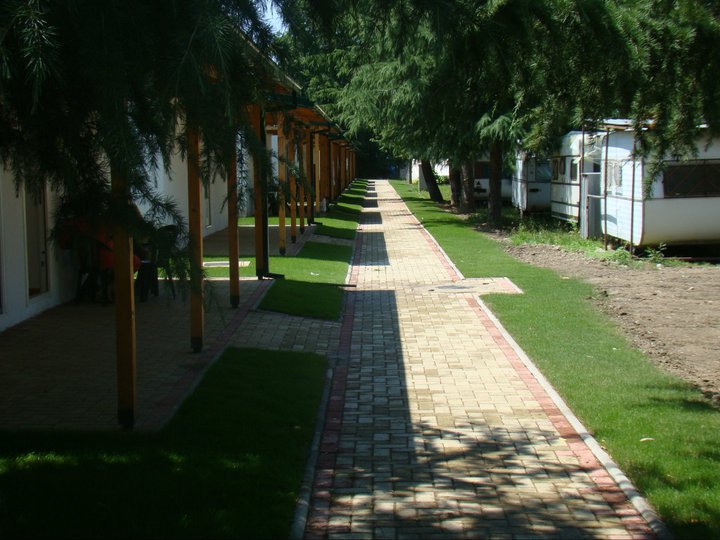 Center's capacity:
Scout Center Ohrid has 94 available beds to offer. They are solidly built objects and can be grouped in 4 ways, 15 rooms with 3 single beds, 4 rooms with 4 single beds, 7 rooms with one single and one double bed and 6 rooms with one double bed.
Sport terrains:
The centre owns small football and basketball pitches, which are fully equipped and ready to use at any time since they are lit at night.
Conference halls/Working areas:
One big conference hall which fits up to 150 people and one smaller meeting and working area which is suitable for up to 30 people, make the centre suitable for team buildings and working weekends. Both of them are fully equipped with standard audio-visual equipment and are soundproofed.
Food:The food in Scout Center Ohrid is central to the centre's buffet and fits up to 300 people. Additionally, the centre has one more small café/buffet by the beach,
Additional activities:
In Scout Center Ohrid we believe that free time is always a good idea to have fun with some extra activities, which is why we have some prepared for you. You can kayak, raft and sail, work on your archery skills and many more activities which can be custom made for your needs.